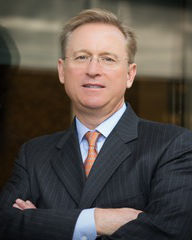 Jonathan Terrell is the Founder and President of KCIC. He has more than 30 years of international financial services experience with a multi-disciplinary background in accounting, finance and insurance. Prior to founding KCIC in 2002, he worked at Zurich Financial Services, JP Morgan, and PriceWaterhouseCoopers. In addition to leading KCIC's business operations, Mr. Terrell is in demand as an expert witness in disputes involving insurance company reorganizations, economic damage calculations, and insurance coverage valuation. He also speaks at industry events and blogs extensively about industry-related topics, as well as on entrepreneurship and organizational health.
A dedicated family man, avid endurance athlete, lover of the arts, and enthusiastic culinarian, Mr. Terrell is a supporter of philanthropic organizations, including Boy Scouts of America, Legatus, and Live Action. He also is on the Corporate Advisory Council of Children's National Health System in Washington, D.C., where he lives with his wife and two sons.
On February 5, 2018, Mr. Terrell became one of a small number of people worldwide to finish the World Marathon Challenge: seven marathons, in seven days, on all seven continents. His mission was to encourage conversations around pediatric mental health, while raising $1 million toward upgrading the inpatient mental health unit at Children's National hospital. Learn more at taketherisk.run.
Born and raised in the UK, Mr. Terrell is a grateful, naturalized American.
Jonathan Terrell