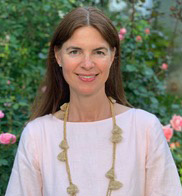 Diana Reynolds brings to the FAIR Girls Board her kind spirit, open heart and compassionate, loving nature. Diana is an active member of her community and serves on the board of the Garden Club of Alexandria, a member club of the Garden Club of Virginia and the Garden Club of America, where she pursues her love of gardening and horticulture.
Diana's professional career in New York began in publishing at Seventeen Magazine and then at a public relations firm, Cairns & Associates, where she represented luxury brands La Prairie, Avon, Chesebrough-Ponds, Fabergé, and Waterman Pens.
Diana is passionate about supporting and encouraging children and young women. She is an active member of her children's school communities and volunteers regularly with the Capital Area Food Bank.
Diana first became aware of the prevalence and urgency of human trafficking through the film, Girl Rising. She is honored to be a member of the FAIR Girls Board where she hopes to help survivors rebuild their lives and restore their innate dignity, beauty, and grace.
Diana Reynolds