Celebrating our Vida Home's 5th Anniversary
Five years ago, FAIR Girls opened the doors to our Vida Home, a safe house for survivors of human trafficking. It has been transforming survivors' lives ever since.
The FAIR Girls' Vida Home 5th anniversary celebration will be an elegant and fun rooftop cocktail event with heavy hors d'oeuvres, open bar, live entertainment, and raffle prizes, overlooking sweeping views of the nation's capital. We created our Vida Home five years ago this year, to fill a significant gap in survivor support services. It is – and remains – the only 90-day safe house in D.C. specifically designed for human trafficking survivors who identify as girls or women, ages 18 to 26. The fully furnished townhome has six beds and gives survivors access to warm meals, clothing and other necessities, as well as specialized case management, safe transportation, enrichment opportunities in the community based on group interests, and workshops and activities that focus on employment and mental health. To celebrate this important milestone, FAIR Girls is hosting a rooftop cocktail event the evening of June 6 at The Willard in Washington, D.C. We invite you to join us at this special event to show your support for courageous human trafficking survivors through a local organization that provides direct, specialized care. The funds raised through your compassionate generosity will directly support the costs of operating our Vida Home and strengthen our ability to create brighter outcomes for trafficking survivors.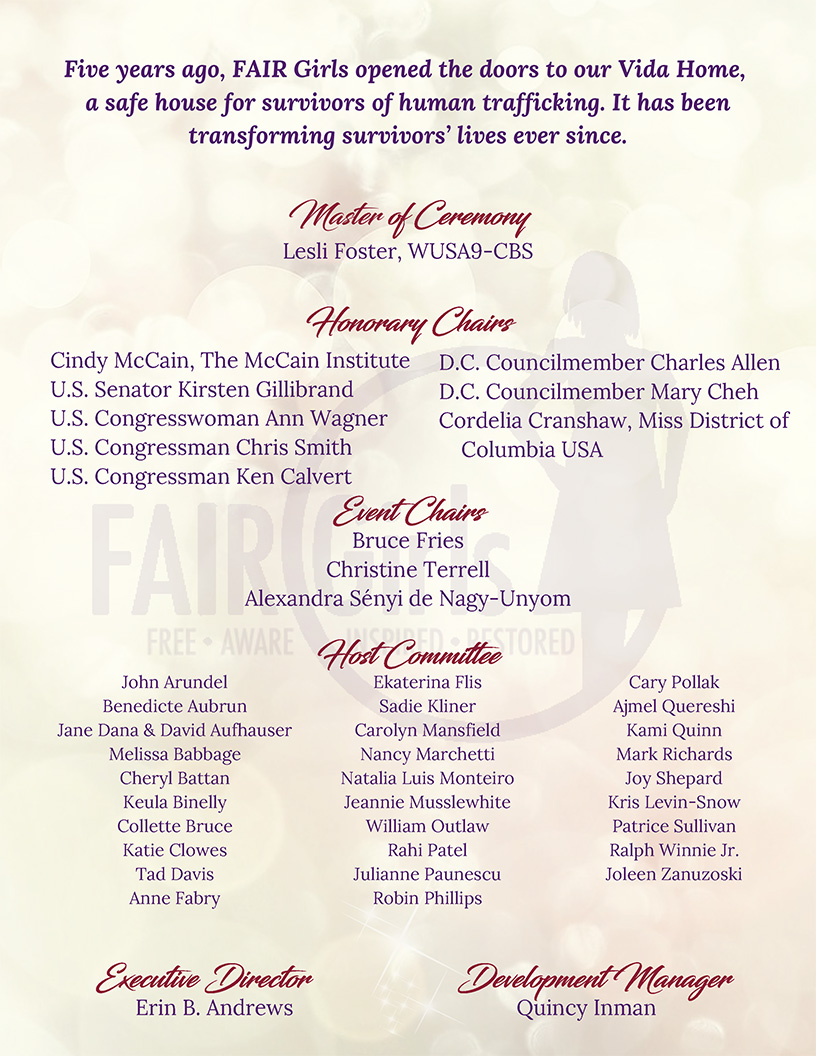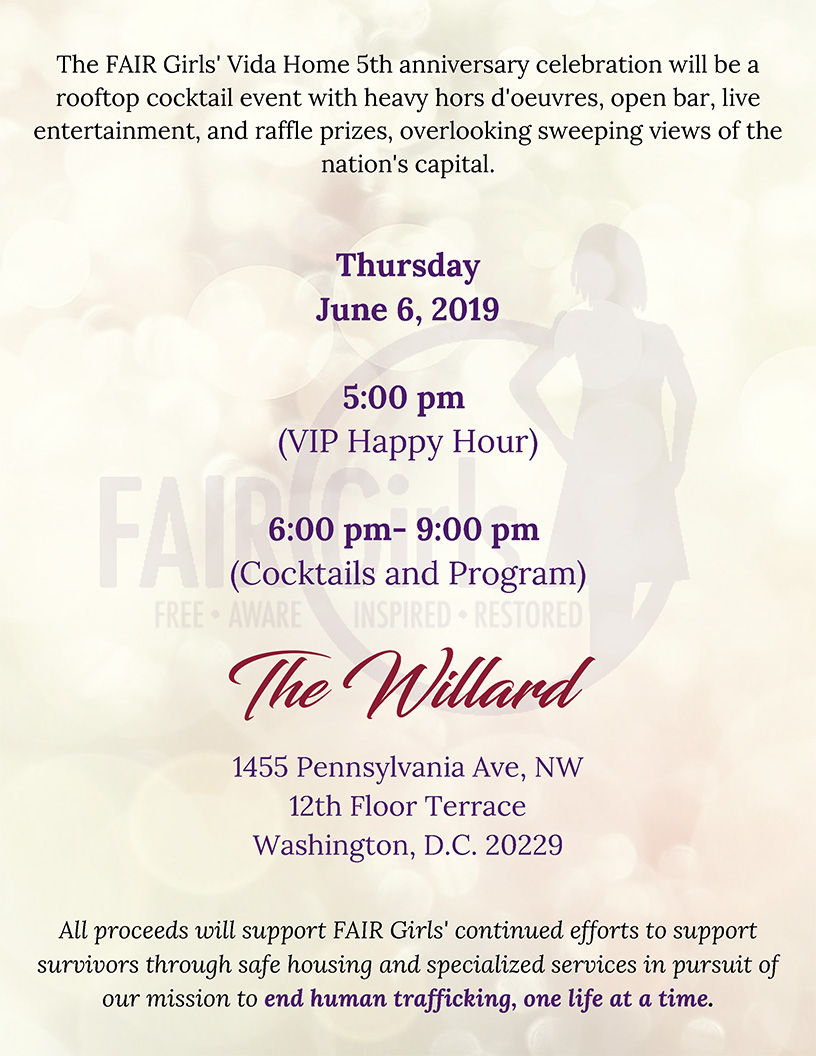 (young professionals, non-profit, and government tickets are now SOLD OUT!)
Event Information:
Date/Time: June 6, 2019 6-9pm (VIP,Sponsor,Honorary Host & Chair Happy Hour to begin at 5pm)
Event Address: The Willard (Suite 1200- 12th Floor Terrace) 1455 Pennsylvania Ave Washington, D.C. 20229
Ticket Information:
V.I.P. Ticket(s): $200 (Early Bird) / $225 General Ticket(s): $100 (Early Bird) /$125 Government, Non-profit Employees, & Young Professionals Ticket(s): $75
All proceeds will support FAIR Girls' continued efforts to support survivors through safe housing and specialized services in pursuit of our mission to end human trafficking, one life at a time.
For more information contact Quincy Inman at qinman@fairgirls.org or call 202-491-9773.
Events v1