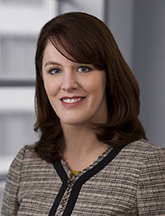 Kami Quinn has broad experience recovering insurance proceeds for mass tort liability, directors' and officers' liability, financial fraud, and property damage and business interruption in complex, multi-party disputes. Kami also has advised many clients with respect to strategies for insurance recovery in asbestos-related bankruptcies. 
Kami emphasizes the early evaluation and quantification of litigation risk and consensual resolutions whenever possible. She is adept at working with underlying products liability counsel, consultants and in-house lawyers and non-lawyers alike to achieve a streamlined approach to resolving her clients' issues, including making full use of available technology. As a result, Kami is typically able to resolve cases without unnecessary litigation expense.  Indeed, in many of her cases insurers have been persuaded to rescind coverage denials or resolve coverage claims without the need for expensive litigation.
Kami also regularly advises clients regarding their insurance position before disputes arise. She regularly evaluates complex insurance portfolios to assist clients in avoiding future disputes with carriers, obtain the best wording available at an appropriate price and to ensure that any coverage is consistent with the client's understanding of the risk transferred.  Kami also provides advice and counseling to a number of clients (typically potential transferors or transferees of insurance coverage) seeking to value disputed or potentially disputed insurance assets. 
Kami is also a principal at Reneo Consulting LLC.
Representative Matters:
Secured hundreds of millions of dollars through settlement with insurance companies on behalf of various mass tort defendant companies.

Secured hundreds of millions of dollars through settlement with various insurance companies on behalf of bankruptcy trusts created for the benefit of personal injury claimants.

Advised a national non-profit organization with respect to recovery from insurers of amounts spent in the successful defense of the organization's public education campaign.

Advised the successor to a Fortune 500 company concerning its global strategy for insurance recovery and litigation of certain insurer disputes.

Counsels asbestos creditor committees in bankruptcy cases with respect to securing CGL insurance coverage.

Advised and counseled a food products company concerning business interruption and property damage coverage available in connection with the recall of potentially contaminated products.

Advised a property developer with respect to recovery for tens of millions in alleged construction defects in hotel development.

Advises a residential housing association with respect to disputes arising under its coverage as well as with respect to placing coverage.
Kami has an active pro bono practice, which involves cases ranging from securing emergency potentially life-saving care for a breast cancer patient to working with the American Civil Liberties Union to secure a recovery for alleged police brutality. Kami has provided pro bono analysis of existing insurance coverage portfolios for a number of nonprofit organizations. She also has co-authored an amicus brief to the United States Supreme Court with other Gilbert LLP lawyers related to the Affordable Care Act.
Education
2000 — J.D., University of Chicago Law School

1996 — B.A., Drake University
Bar Memberships
District of Columbia

Virginia
Professional Affiliations
Insurance Subcommittee of the ABA Business Bankruptcy Committee, Vice-Chair
Special Honors
Selected as a Washington, DC Rising Star (Super Lawyers), 2013-2015
Charitable & Civic Involvement
Kami Quinn