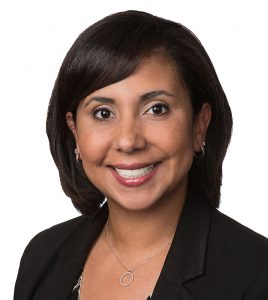 Jeniffer De Jesus Roberts is the deputy general counsel, focusing on a wide variety of legal matters including litigation.
Prior to joining Booz Allen, Jeniffer was a partner with the law firm Alston & Bird. Jeniffer has deep expertise both as senior in-house counsel at public companies and in private practice helping Fortune 500 companies with litigation, crisis management, ethics and compliance, internal and government investigations, government contracting, mergers and acquisitions, and corporate and business transactions issues.
Jeniffer's experience includes providing end-to-end services that allow government contractors to operate effectively within the many domestic and international regulatory restrictions. Her experiences both in-house and in private practice give her an informed perspective and a keen appreciation for flexibility and creativity in legal analyses—balancing compliance risk with an organization's business needs.
Jeniffer serves on the Board of FAIR Girls, a nonprofit organization focused on preventing the trafficking and exploitation of girls worldwide through empowerment and education. She is also on the Government Contracts Editorial Board of Law360.
Jeniffer earned her J.D. from the George Washington University Law School and her master's of public health in administrative medicine and health policy from the Milken Institute School of Public Health at George Washington University. She has a B.A. in psychology from West Chester University of Pennsylvania.
Jeniffer Malin De Jesus Roberts