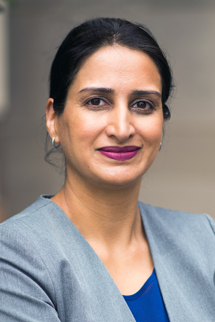 Jasbir (Jesse) K. Bawa joined the faculty of Howard University School of Law in 2009, after years of big law firm practice. While she primarily specializes in teaching legal writing and appellate advocacy within a civil rights lens, Jesse has taught a course in Racial Profiling
Across Communities of Color, educating Howard Law students about other communities facing various forms of racial profiling, including Sikhs, Muslims and Hispanics. She spent three years as part of the Board of Directors for a national civil rights organization, the Sikh American Legal Defense and Education Fund (SALDEF) after initially serving there as a legal volunteer. She
is currently the Deputy General Counsel at a local religious nonprofit. Jesse is also an author whose writing on contemporary civil rights issues have appeared in The Daily Beast, Talking Points Memo, Huffington Post and other media outlets. Jesse is the mother of boy/girl twins.
Jasbir (Jesse) K. Bawa